Contribution to the Community Home / Contribution to the Community
Boubyan Bank & Alorf Hospital Health Education & Awareness Day-March 29, 2014


Alorf Hospital in cooperation with the American Heart Association, Boubyan Bank, and other community agencies conducted a medical outreach in Al-Jahra Copthorne Hotel. The festive atmosphere provided a variety of activities and events by participating establishments and patient consulting from the side of Alorf Hospital. The event included the participation of doctors, specialists and nurses from Alorf Hospital who provided tips and health advice free of charge to all attendees. As part of this effort, health counseling and screenings for diabetes and hypertension were provided. This effort was also in providing health education for prevention and maintaining a healthful lifestyle.
---
Nurses Medical Mission - May 6 to 7, 2014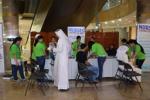 The celebration of International Nurses Week was conducted by providing health education seminars and community events for the Jahra community. The event was held at Awtad Mall. The nurses provided health tips, blood pressure check-up, height and weight check, and RBS monitoring.
---
Breast Cancer Awareness Month - October 10, 2013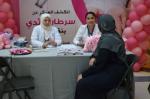 Alorf Hospital observes 'Breast Cancer Awareness Month,' an annual global campaign to increase awareness of the disease by providing a one day free check-up and consultation in Awtad Mall. Pamphlets regarding breast cancer were given out.
---